In today's digital era, having a strong online presence is essential for businesses of all sizes. One powerful tool that can significantly enhance your online visibility is Google My Business (GMB). GMB allows you to create a robust online profile for your business, providing valuable information to potential customers and improving your chances of being found in local searches. In this blog, we will explore how to set up and optimize your GMB listing, the benefits it offers, and why businesses across various industries should utilize this powerful platform. We will also highlight the advantages of using Bharat Digital Marketing's Google listing services for a seamless GMB experience.
How to Set Up and Optimize Your Google My Business Listing: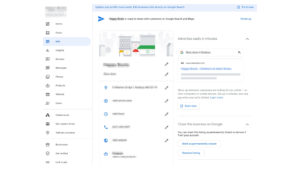 Create an Account: Visit the Google My Business website and sign in with your Google account or create a new one if needed.
Provide Accurate Business Information: Fill in essential details such as business name, address, phone number, website URL, category, and operating hours. Ensure that the information is accurate and consistent across all platforms.
Add Compelling Visuals: Upload high-quality photos that showcase your business, products, or services. Visual content plays a crucial role in attracting potential customers and creating a positive first impression.
Request Reviews: Encourage your satisfied customers to leave reviews on your GMB profile. Positive reviews not only boost your credibility but also influence potential customers' decision-making process.
Utilize Google Posts: Take advantage of Google Posts to share updates, promotions, events, or news about your business. Regularly updating your Google Posts helps keep your profile active and engaging.
The Benefits of Google My Business (GMB):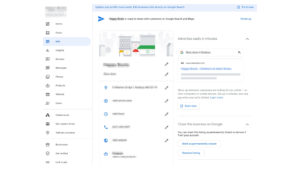 Increased Visibility: A well-optimized GMB listing increases your chances of appearing in local search results, Google Maps, and the Local Pack, which prominently displays businesses related to a specific query.
Improved Customer Engagement: GMB allows customers to easily find and contact your business. They can access your phone number, website, and directions, and even message you directly through the platform.
Showcase Important Information: GMB provides a convenient way to display critical information such as business hours, location, and contact details. This saves potential customers time and enhances their user experience.
Customer Insights: GMB provides valuable insights into customer behavior, including how they found your listing, the actions they took, and the queries they used. These insights can help you refine your marketing strategies.
Online Reputation Management: GMB allows you to respond to customer reviews, both positive and negative. Timely and professional responses demonstrate your commitment to customer satisfaction and build trust with your audience.
Businesses That Must Utilize Google My Business:
Local Retail Stores: GMB enables local retail stores to attract nearby customers actively searching for their products. It's a great way to increase foot traffic and sales.
Restaurants and Cafes: GMB is particularly beneficial for restaurants and cafes, as it allows potential customers to explore menus, read reviews, and make reservations directly from the listing.
Service-Based Businesses: Whether you're a plumber, electrician, or hair salon, having a GMB listing ensures that your business is visible to potential customers searching for local services in your area.
Medical Practices and Clinics: GMB listings are valuable for medical practices and clinics as they provide essential information such as operating hours, contact details, and directions to patients in need of healthcare services.
Why Choose Bharat Digital Marketing for Google Listing Services:
Bharat Digital Marketing offers professional Google listing services to optimize your GMB profile for maximum visibility and engagement. Their experienced team understands the intricacies of GMB and employs proven strategies to enhance your online presence. From setting up your profile